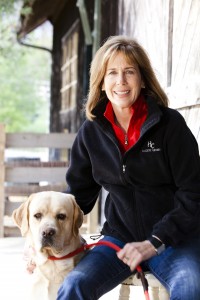 A biscuit on the bed and fresh spring water awaits your pet's arrival at Hunt Club Boarding Kennel.  All of our guest quarters at Hunt Club are spacious, heated, air conditioned and include fleece padding on the beds. Guest quarters also feature television as well as daily "maid service".
During their stay, all of our guests will enjoy time outdoors in our spacious exercise yards so they will have plenty of time throughout each day of their stay to romp and play in the fresh country air. Each of our guests are given social time with our staff during the day and we take pride in the special care we provide to elderly pets.  With the upgrade packages, your pet can enjoy a delightful walk on the nature trails in the woods along the creek.
Hunt Club Boarding Kennel is located in the beautiful horse country of Zionsville, Indiana. Just northwest of Indianapolis and I-465, our location allows easy access to and from the Indianapolis International Airport.
Nancy Arbuckle is the owner and proprietor of Hunt Club Boarding Kennel. She infuses her diverse experience and passion for dogs into the Kennel and its staff to ensure exceptional care for your pet. Nancy has been training, showing, breeding, and caring for dogs for more than 35 years. She is also a well-known AKC judge and has been invited to judge Labradors and Golden Retrievers not only in the United States, but internationally. In the United States, one of her highest accolades as a judge came when she was invited to judge Golden Retrievers and Labradors at the 2009 Westminster Kennel Club Dog Show in New York, NY. The Labradors that she breeds and shows are recognized by look and temperment across the U.S.; You may have a "Hunt Club Lab" living in a home near you!
Your pet's health, safety and comfort while at Hunt Club Boarding Kennel are the highest priority for Nancy. Her familiarity and awareness of canine health provides her the ability to recognize issues and she will alert the pet's owner right away if there is anything out of the ordinary. Her genuine focus is for each pet's owner to feel confident that their pet is in compassionate and capable hands while they are away – and that the pet is having a fun time at Hunt Club Boarding Kennel!